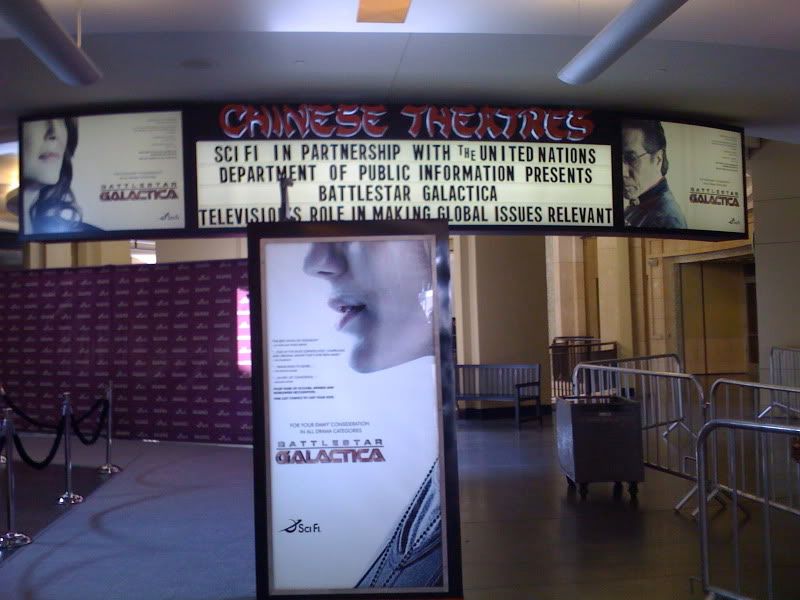 Remember back during our complete coverage of the Battlestar Galactica panel at the Paley Television Festival when I said that event would probably be the last significant gathering of on and off-screen talent from the show? Well, I may have been lyingpremature in my declaration. It's no secret that in the annals of television history, Battlestar Galactica will rightfully take its place as one of the most sophisticated, abstruse, demanding, and thoughtful shows to ever grace the silver screen. No issue or hot-button topic was off-limits to the writers: war crimes, torture, genocide, abortion, religious conflict, human rights, the rule of law, anarchy, the very essence of humanness. Though an action-adventure space opera to its core, BSG integrated storylines eerily germane to the times we live in, and transcended its medium in the process.
In recognition of these tremendous achievements, and in a television first, the United Nations hosted an invitation-only panel back on March 17th in the hallowed Economic and Social Council Chamber composed of UN representatives and officers, cast members Mary McDonnell and Edward James Olmos, and executive producers Ronald D. Moore and David Eick. As a pilot project for its Department of Public Information's Creative Community Outreach Initiative, the UN hopes to partner more often with the international film and television industries to raise awareness and foster discussion of prevalent global issues. Unfortunately the first United Nations event took place at their headquarters in New York and we had to miss it (sadly, the ScriptPhD is not yet bicoastal). But luckily for us, the United Nations partnered with the Sci-Fi Channel to host a West Coast rebroadcast from Hollywood Thursday night. As a part of the Los Angeles Times's annual pre-Emmy Envelope Screening Series, LA Times writer Geoff Boucher moderated a panel that once again welcomed McDonnell, Olmos, Moore and Eick, and UN representatives Steven Siguero and Craig Mokhiber.
Amid a chorus of enthusiastic fans and "So say
we all!"s, a lively and vibrant discussion ensued about torture, enemy combatants, race, and the upcoming Battlestar Galactica: The Plan TV movie event. ScriptPhD.com is proud to bring you complete coverage.
To read a transcript of the LA Times Envelope Battlestar Galactica Discussion Panel please click "Continue Reading".
Continue reading Hi-Fi Sci-Fi: I'm Gonna Take My Problem to the United Nations →