I'm honored to be joining ScriptPhD.com as an East Coast Correspondent, and look forward to bringing you coverage from events in such exciting areas as Atlanta, Baltimore, and New York City – as well as my hometown of Washington, DC.
And to that end, here is a re-cap of the World Science Festival's panel "Battlestar Galactica: Cyborgs on the Horizon." For anyone interested in the intersection of Science and Pop Culture, I cannot promote this event enough. In addition to the panel I'll be describing, some of the participants included Alan Alda, Glenn Close, Bobby McFerrin, YoYo Ma, and Christine Baranski from the entertainment sector. Representing science were notables like Dr. James Watson (who along with Francis Crick was the first to elucidate the helical structure of DNA), Sir Paul Nurse (Nobel Laureate and president of Rockefeller University), and E.O. Wilson (who is celebrating his 80th birthday in conjunction with the festival).
However, it's time to return to the subject of this post – BSG and Cyborgs. To read more about the discussion at the intersection of science fact and science fiction, please click "Continue Reading".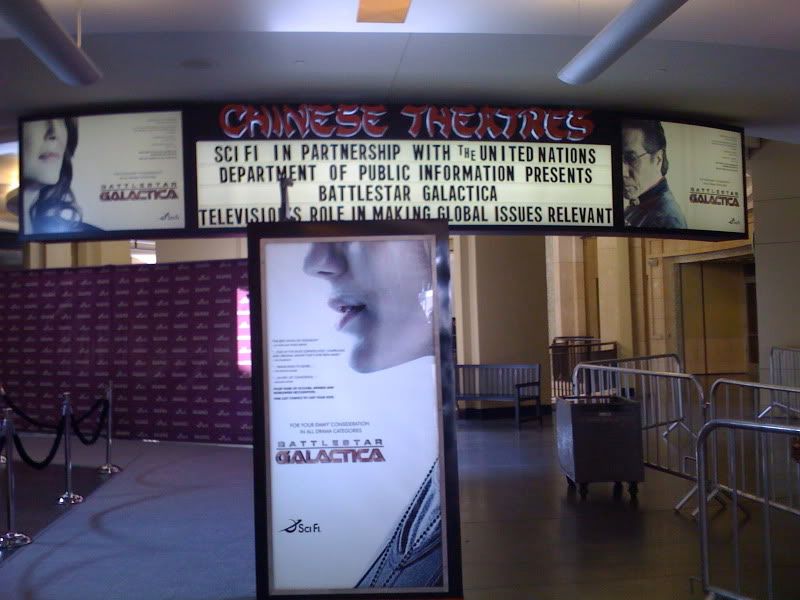 Remember back during our complete coverage of the Battlestar Galactica panel at the Paley Television Festival when I said that event would probably be the last significant gathering of on and off-screen talent from the show? Well, I may have been lyingpremature in my declaration. It's no secret that in the annals of television history, Battlestar Galactica will rightfully take its place as one of the most sophisticated, abstruse, demanding, and thoughtful shows to ever grace the silver screen. No issue or hot-button topic was off-limits to the writers: war crimes, torture, genocide, abortion, religious conflict, human rights, the rule of law, anarchy, the very essence of humanness. Though an action-adventure space opera to its core, BSG integrated storylines eerily germane to the times we live in, and transcended its medium in the process.
In recognition of these tremendous achievements, and in a television first, the United Nations hosted an invitation-only panel back on March 17th in the hallowed Economic and Social Council Chamber composed of UN representatives and officers, cast members Mary McDonnell and Edward James Olmos, and executive producers Ronald D. Moore and David Eick. As a pilot project for its Department of Public Information's Creative Community Outreach Initiative, the UN hopes to partner more often with the international film and television industries to raise awareness and foster discussion of prevalent global issues. Unfortunately the first United Nations event took place at their headquarters in New York and we had to miss it (sadly, the ScriptPhD is not yet bicoastal). But luckily for us, the United Nations partnered with the Sci-Fi Channel to host a West Coast rebroadcast from Hollywood Thursday night. As a part of the Los Angeles Times's annual pre-Emmy Envelope Screening Series, LA Times writer Geoff Boucher moderated a panel that once again welcomed McDonnell, Olmos, Moore and Eick, and UN representatives Steven Siguero and Craig Mokhiber.
Amid a chorus of enthusiastic fans and "So say we all!"s, a lively and vibrant discussion ensued about torture, enemy combatants, race, and the upcoming Battlestar Galactica: The Plan TV movie event. ScriptPhD.com is proud to bring you complete coverage.
To read a transcript of the LA Times Envelope Battlestar Galactica Discussion Panel please click "Continue Reading".
Original Premise
Who among us hasn't wanted, nay desperately needed, to forget a painful event, relationship, person, or circumstance that can't seem to escape their memory? Oh to be able to just wipe it from your brain and pretend it never happened! The concept sounds like something straight out of the imaginative mind of screenwriter Charlie Kaufman. In his movie, Eternal Sunshine of the Spotless Mind, ex-lovers Joel and Clementine, played by Jim Carrey and Kate Winslet, erase memories of each other after their relationship sours. To do this, they seek out the bioengineering company Lacuna Inc, whose scruples are more than ambiguous. All's well that ends well for the lovers, as they reconnect towards the end of the movie, rebuild new memories of one another and fall back in love.
Indeed, plenty of recent movies deal with memory loss, of varying degree, origin and consequence. In Christopher Nolan's brilliant and esoteric Memento, Leonard Shelby (Guy Pearce), suffering from antiretrograde amnesia rendering him unable to form new memories, is trying to piece together the events of the vicious attack and murder of his wife. A similar condition is suffered by Drew Barrymore's character in the romantic comedy 50 First Dates and has to "meet" her character's love interest anew every day. In Paycheck, the film adaptation of Philip K. Dick's science fiction story, Ben Affleck's character takes extreme measure to protect his clients' intellectual property, in the form of wiping his own memory, almost costing him his own life as his last deal embroils him in a standoff with the FBI.
Indeed, a slew of medical and psychological syndromes can cause, or is associated with, memory loss. But the idea of selective memory engineering has been the stuff of science fiction fancy.
Until now.
Current Research
While watching an episode of the television version of This American Life, I was struck by the episode entitled "Pandora's Box", which profiled the work of SUNY Downstate Medical researchers Drs. Todd Sacktor and Andre Fenton. Dr. Sacktor had a revolutionary idea about how memory is formed in the brain, and the elementary, yet powerful, way to manipulate it by eradicating the function of one regulatory molecule. And what a Pandora's box did they open! Take a look at this short clip:
Powerful stuff, no? This research, in effect, suggests that a single molecule, Protein Kinase Mzeta, regulates the brain's ability to form and retain memories, and consequently lies at the heart of memory erasure potential. In a recent New York Times interview, Dr. Sacktor admitted that his scientist dad directed him to a family of molecules called Protein Kinase C in 1985, from which his lab derived PKMzeta as a brain-specific member of that family. In a 1999 paper in the journal Nature Neuroscience, Drs. Jeff Lichtman and Joshua Sanes narrowed down 117 hypothetical molecules involved in long-term potentiation (LTP), the communication between two neurons when stimulated simultaneously. Following this paper, in a subsequent 2002 Nature Neuroscience paper, Dr. Sacktor's lab was able to isolate PKMzeta as the absolute "it" memory factor, showing that it congregates semi-permanently en masse around these activated neuronal connections. At that point, he was off to the races. He joined forces with the friendly neighbor downstairs, neuroscientist Dr. Andre Fenton, who just happened to study spatial memory in mice and rats. He had previously shown that mice and rats placed in a circular chamber learn how to move around to avoid getting their feet shocked, a memory they retain, days, weeks, even months later. Sacktor's lab injected an inhibitor for PKMzeta into the rats' hippocampus, the part of our brain that regulates memory. The results were stunning. Two pioneering papers (paper 1 and paper 2) in the elite research journal Science showed that these "blockers" both reversed the rats' neurons from forming long-term potentiation, and that it manifested in them forgetting the spatial information they'd learned in the chamber, an effect that seemed to last for weeks. Drs. Sacktor and Fenton had erased the rats' memory!
Dr. Fenton and Dr. Sacktor's reaction to their research in the This American Life piece was notable. Normally, scientists are shielded well behind the safe solitude of the ivory tower: long work hours, constant pressure, achieving the next research milestone. It's not that scientists don't ever think about the implications of their work per se, but they rarely have the luxury of time for such contemplation or the fortune of far-reaching results. While he read letters from victims of post-traumatic stress disorder, Dr. Fenton broke down crying, and expressed a desire to just help these people.
Less than two months ago, scientists at the Toronto's Hospital for Sick Children [sorry I can't help myself… as opposed to healthy ones? I love Canadians!] have added an important piece to this canon of research. In a Science paper, the scientists identified the exact group of neurons—lateral amygdala (LA) neurons with increased cyclic adenosine monophosphate response element-binding protein (CREB)—responsible for formation of a given memory (the neuronal memory trace). Selective targeting and deletion of these neurons using an injectable, inducible neurotoxin blocked all learned memories.
Eventually, of course, all of this body of science will coalesce into a more coherent picture of how memories are formed, what subsets of neurons in which portions of the brain store them, and what molecules and proteins we can manipulate to control, enhance or erase memory altogether. But that still leaves us to grapple with some very powerful and comprehensive bioethical dilemmas. Assuming that this translates into a medical procedure or pharmaceutical treatment for memory manipulation, who will regulate it? How will rules be established to regulate how far to take this therapy? Is memory erasure the equivalent of altering our personalities, the essence of who we are, a psychological lobotomy? Most importantly, however, is the question of how much we need memories, even painful, negative ones, to build the cornerstones of human morality, empathy, and the absolute meaning of right and wrong.
Sheena Jocelyn, one of the researchers involved in the University of Toronto study, acknowledged the bifurcated ethical implications of the research: "Our experiences, both good and bad, teach us things," she said. "If we didn't remember that the last time we touched a hot stove we got burned, we would be more likely to do it again. So in this sense, even memories of bad or frightening experiences are useful. However, there are some cases in which fearful memories become maladaptive, such as with post-traumatic stress disorder or severe phobia. Selectively erasing these intrusive memories may improve the lives of afflicted individuals." In fact, Anjan Chatterjee, M.D., a neuroethicist at the University of Pennsylvania Ethics Center, penned an incredibly prescient piece two years ago that equated psychological mitigation of painful memories to "cosmetic neurology". "If, as many religions and philosophies argue, struggle and even pain are important to the development of character," Dr. Chatterje asks, "Does the use of pharmacological interventions to ameliorate our struggles undermine this essential process?"
To shed some light of this ethical quandary, ScriptPhD.com enlisted the help of Mary Devereaux, PhD, a bioethics expert at The Center for Ethics in Science and Technology in San Diego, CA and Peter Wagner, MD, a professor in the Schools of Medicine and Bioengineering at UCSD.
To continue reading these enlightening interviews, click "Continue Reading"…