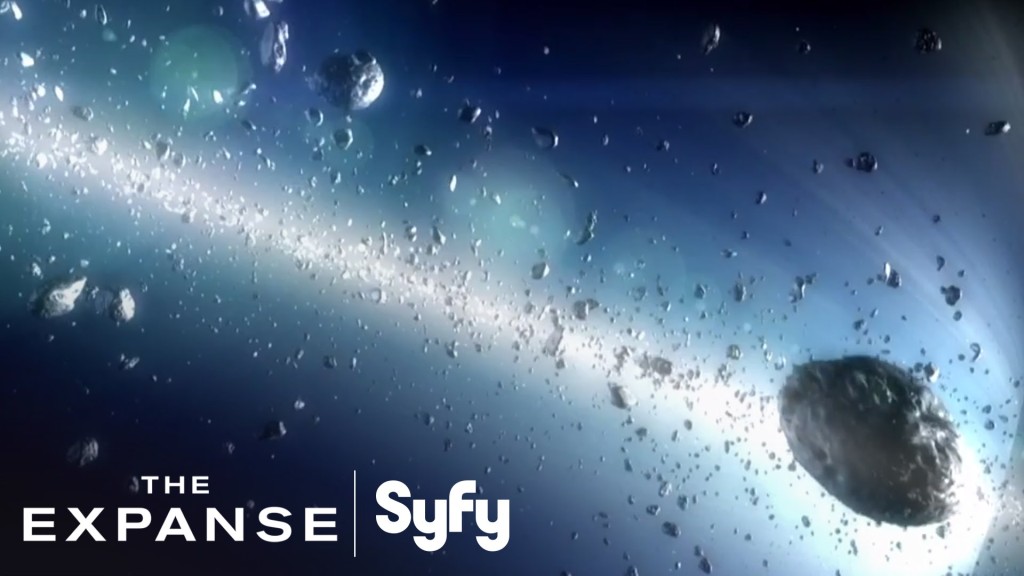 Space exploration is enjoying its greatest popularity revival since the Cold War, both in entertainment and the realm of human imagination. Thanks in large part to blockbusters like Gravity, The Martian and Interstellar, not to mention privatized innovation from companies like SpaceX, and fascination with inter-galactic colonization has never been more trenchant. Despite the brimming enthusiasm, there hasn't been a film or TV series that has tackled the subject matter in a nuanced way. Until now. The Expanse, ambitiously and faithfully adapted by SyFy Channel from the best-selling sci-fi book series, is the best space epic series since Battlestar Galactica. It embraces similar complex, grandiose and ethically woven storylines of human survival and morality amidst inevitable technological advancement. Below, a full ScriptPhD review and in-depth podcast with The Expanse showrunner Naren Shankar.

200 years in future, humans have successfully colonized space, but not without discord. The Earth, overpopulated and severely crunched for resources, has expanded to the asteroid belt and a powerful, wealthy and now-autonomous Mars. Though the colonies of the asteroid belt are controlled by Earth (largely to pillage materials and water), its denizens are second-class citizens, exploited by wealthy corporations for deadly labor. Inter-colony friction, class warfare, resource allocation and uprising frame the backdrop for a political standoff between Mars and Earth that could destroy humanity.
Deeper questions of righteous terrorism, political conspiracy and human rights are embodied in a triumvirate of smart, interweaving plots that will eventually coalesce to unravel the fundamental mystery. Josephus Miller (Thomas Jane) is a great detective, but a lowly belter and miserable alcoholic, mostly paid to settle minor Belt security and corporate matters. But when he's hired to botch an investigation into the disappearance of a wealthy Earth magnate's family, Miller starts to uncover dangerous connections between political unrest and the missing heiress. Jim Holden (Steven Strait) is a reluctant hero – a "Belter" ship captain thrown into a tragic quest for justice – who unwittingly leads his mates directly into the conflict between Mars and Earth and, as he delves deeper, unravels a potentially calamitous galactic threat. Finely balancing this tightwire is Chrisjen Avasarala (Shohreh Aghdashloo), the Deputy Undersecretary of the United Nations, who must balance the moral quandaries of peacekeeping with a steely determination to avoid war at all costs.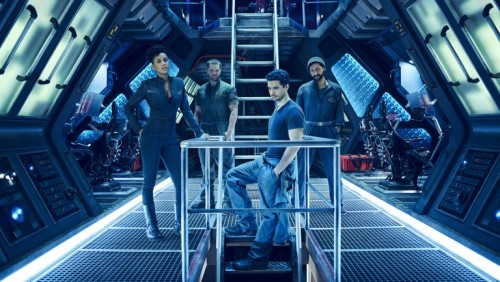 Colonization is a very trendy topic right now in space and astrophysics circles, particularly on Mars, having discovered liquid water, which fosters favorable conditions for the evolution and sustainability of life. Could it ever actually happen? There would certainly be considerable engineering and habitability obstacles.
For now, modest manned exploration of Mars and Europa by human astronauts is a tentative first step for NASA.
The Expanse assumes all these challenges and explorations have ben overcome, and picks up at a time when humans biggest problem isn't conquering space – it's conquering each other. The show is sleek and very technologically adept, in direct visual contrast to the more dilapidated environment of Battlestar Galactica. Fans of geek chic technology can ogle at complex docking stations as ships move around the belt to and from Earth and Mars, see through tablets, pills that induce omniscience during interrogations and ubiquitous voice-controlled artificial intelligence. However, though a new way of life has been established, remnants of our current quotidian existence and human essence are still instantly recognizable. This isn't the techno-invasive dystopia of Blade Runner or Minority Report.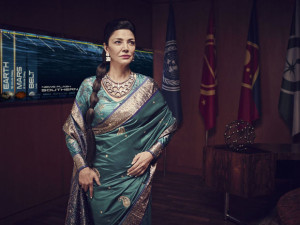 Like, Battlestar Galactica, (a show The Expanse will invariably be compared to) there is a crisp, smart overarching commentary on human existentialism under tense circumstances. Survival and life in space. Adapting to the changing gravitational forces and physical conditions of travel between planets and the asteroid belt colonies. Most importantly, navigating the incendiary dynamics of a species on the brink of all-out galactic warfare. As show runner Naren Shankar mentions in our podcast below, all great sci-fi is historically rooted in allegory – the exploration of disruptive technological innovation (and the fear thereof) as a symbol of combating inequality and/or political injustice. At a time of great social upheaval in our world, a fight for dwindling global resources and against proliferating environmental devastation, many of the themes explored in The Expanse books and series are eerily salient. Perhaps they also act as a reminder that even if a technological revolution facilitates an eventual expansion into outer space, our tapestry of inclinations (good and bad) is sure to follow.
Naren Shankar, the executive producer and show runner of The Expanse, helped develop the adaptation of the sci-fi series buoyed by decades of merging the creative compasses of science and entertainment. A PhD-educated physicist and engineer, Shankar was a writer/producer on Star Trek: The Next Generation, Almost Human and Grimm, as well as a co-showrunner of the groundbreaking forensics procedural CSI. Dr. Shankar exclusively joined the ScriptPhD.com podcast to discuss his transition from PhD scientist to working Hollywood writer, the lasting iconic impact of Star Trek and CSI and how The Expanse evokes the best allegory and elements of the sci-fi genre to tell an existential narrative. Listen below:
*****************
ScriptPhD.com covers science and technology in entertainment, media and advertising. Hire our consulting company for creative content development. Follow us on Twitter and Facebook. Subscribe to our podcast on SoundCloud or iTunes.